The sudden transition to remote teaching has left many teachers, as well as students, faced with various challenges, from not having access to the internet to finding the proper tools to overcome the boundaries of online teaching.
We have compiled a list of tools that you can use to enhance your experience with teaching online, or remote teaching as popularly referred to these days. You can go through the list and select the ideal online teaching tools for your remote teaching goals.
Remote Teaching Tools
Familiarizing yourself with how the tool or platform that you use works, is as important as selecting the correct tool.
Explore each tool and learn ways to maximize its utility to create a better teaching experience.  Your students will depend on you to instruct them on how to use the platform themselves.
There's a range of remote teaching software available out there, and from them, we have chosen the best ones and categorized them based on their primary purpose.
Online Communication Tools
Effective communication is the key to successful teaching and learning, whether in a physical classroom or a virtual classroom. However, maintaining online communication with not one, but over twenty students is undoubtedly challenging.
Communication platforms help overcome it; they enable communication with larger groups, with video conferencing, instant messaging, audio calls, virtual rooms, and more, with any device and from anywhere.
Some of the tools in demand are,
For a better teaching experience with these tools,
Create an agenda or a plan for each online class and share it prior to the lesson
Clearly explain the online etiquette students should follow during the class and what is expected of them prior to or at the beginning of the lesson
Have all microphones, except for the person who is speaking, muted. This helps cancel out the distracting noises and retain the focus of the students. Anyone who needs to speak can make a gesture to catch the attention of the speaker without interrupting them.
When delivering a presentation or sharing an image, document or file, give some time for students to take down notes, to view or go through them.
Online Whiteboards
Online whiteboards or digital whiteboards help emulate the classroom whiteboard/ blackboard experience with the students. Most of these tools offer an infinite canvas with shape libraries for creating different types of diagrams, charts, graphs, and other visualization purposes (i.e. creating posters, graphic organizers, etc.).
Creately is widely used by educators for a variety of purposes: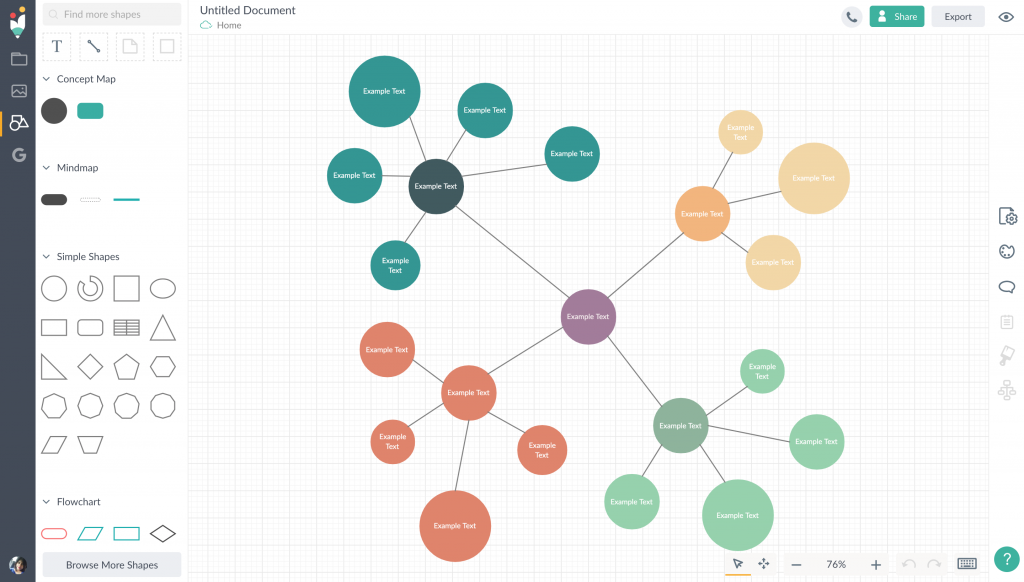 As an online whiteboard where teachers and students can collaborate on the same canvas as they visualize ideas, concepts, etc. Moreover, students and teachers can connect via in-app video conferencing and track changes each other makes with real-time mouse tracking and change previews.
Create a variety of diagrams and visuals (i.e. dichotomous key diagrams, graphic organizers, lesson plans, etc.) needed for presentations, lessons, assignments, etc.
To share documents with students and colleagues for their output and feedback (with in-line comments)
Work Planning Tools
Maintaining a work schedule is even more important when you are working from home; especially during stressful times, a solid routine can help maximize the use of your time. You can use time management and scheduling apps like Google Calendar and Calendly to streamline:
Creating schedules to use in  your online classes or for personal use
Creating schedules of online classes and keep everyone notified of dates and times.
Scheduling appointments with parents and students; avoid double-booking a slot
Inviting parents, students or colleagues for online events (i.e. webinars)
Creating lesson plans and sharing them with students, administrators, and colleagues.
Learn how to create a lesson plan using Google Calendar here.
Social Media Channels
Social media channels provide a great platform for teachers, students and parents to stay connected.
Channels like Facebook, LinkedIn, WhatsApp, etc. allow the creation of exclusive communities or groups teachers can leverage on to
Communicate and maintain presence after online class hours
Share and store important information, presentations, and resources related to lessons
Conduct Q&A sessions
Encourage students to maintain communication among themselves and engage with each other while studying or doing homework
Conduct live events such as webinars (with Facebook or Instagram Live)
Document Management Tools
From test papers to lesson plans, there's an array of documents teachers have to maintain regularly. A central location to store, organize, and manage all these documents is essential to properly keep track of them, especially when you are teaching remotely.
Tools such as GSuite, MS office, OneDrive, Dropbox, and Evernote simplify the process of maintaining the documents you own.
Store all documents, files, etc. in the cloud which allows you and your students to access them with any device from anywhere
Neatly organize documents in relevant folders and subfolders making it easy to retrieve them
Quickly share files and documents with anyone with a single link or as a file. You can also adjust permission settings, changing them to Edit, View, and Suggesting mode on GSuite apps.
Collaborate with students on editing and reviewing documents, add comments and suggestions and track changes with version history
Online Video Tools
YouTube and Loom are great online video tools for creating and sharing videos with your students. You can use these tools in a number of ways;
Record your online classes or lectures and share them with students
Students can re-watch the videos if they were absent or during exam revisions. You can also have the video recorded prior to the lesson and have it shared with the students when you are on leave
If you are teaching the same lesson to different classes, you can make use of a pre-recorded lesson to avoid repetitive teaching
Encourage students to learn independently with pre-recorded video lessons. The chance of students learning a concept better is higher when they understand it on their own
Share links to existing video resources online
Online Quiz Makers
Whether you are teaching online or in a physical classroom, quizzes are a great way to check a student's performance.  Online quiz makers make it easy to,
 Create, format, and share assessments online
 Create answer sheets which allows you to easily track and score answers of each student
There is a plethora of online quiz makers that are both free and paid, starting from Google Forms.
Find more useful online quiz makers here.
Online Homework Platforms
One thing that is most challenging when teaching from home is keeping track of students' homework.
Homework can come in different forms; essays, speeches, tests, etc.  You can use a combination of the platforms above to get students to submit their homework.
Google Docs – for essays and other written assignments
Zoom, Skype, and other video conferencing apps – for verbal assignments
Loom, YouTube, Prezi, Google Slides – for videos and presentations
Google Classroom – Distribute assignments, grade and send feedback
Did We Miss Any of Your Favorite Online Teaching Tools?
Most of the online teaching tools listed above are free or you can try for free and see how it works for you. Invite a colleague to explore the tools and select the ones that best suit your teaching objectives.
What other remote teaching tools do you recommend? Let us know in the comments below.
This post is the second in our article series on remote teaching. More resources you would find useful include,
7 Effective Remote Teaching Best Practices
The Ultimate List of Visual Teaching Strategies
The Ultimate List of Graphic Organizers for Teachers and Students